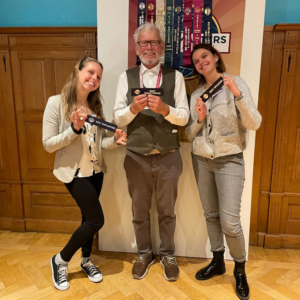 Do you want to become a more effective communicator and leader? Then we welcome you to the Taste and Toastmasters club in Amsterdam!
We are an English public speaking- and leadership club on a mission. A mission to provide a supportive and positive learning experience in which members are empowered to develop communication and leadership skills, resulting in greater self-confidence and personal growth.
Our members are committed to helping each other improve and grow. Whatever you aim is, at Taste and Toastmasters club we provide you a friendly and mutually supportive learning environment that helps you achieve your personal goals.
We take great pride in serving snacks and drinks during our meetings. Giving our members a chance to ease in, get acquainted, catch up and have interesting and fun conversations. That is why we encourage everyone to walk-in early to be part of just that. That is why we are called Taste and Toastmasters.
We have a diversity of expats and Dutch people with different backgrounds and from all ages. Both native and non-native English speakers can hone their speaking, listening and leadership skills in our club.
Long story short, Taste and Toastmasters is the place to be on a Monday night in Amsterdam.
Language: English
Meeting days: Every 1st and 3rd Monday of the month
Times: 19:30 to 21:00 (walk-in from 19:15)
Visit our club as a guest
We encourage you to join one of our club meetings as a guest and experience the vibe for yourself. The only thing you need to do is sign-up, show up, and we will take care of the rest.
Please sign up using below form, so that we can get in contact and can make sure to give you a great experience.
"Can you imagine that you are at a place where you have a guarantee for success in public speaking with extremely low risk for failure? Provided you put your effort into it? In this club, all of our fellow members will provide constructive feedback to continue improving your public speaking skills. When you are in this safe environment, you can reach your goal through the principle of Practice Makes Perfect."
"One year ago, I joined the Taste and Toastmasters club as a Member. Today, I am the President of that same club. The formula is quite simple: join the meetings, give the speeches, get involved. Stay consistent and you will master the art of communication. Your future self will thank you."
I joined this club initially with the expectation to tame the fear of public speaking. Not long after joining, I organically built the sense of leadership that I thought I've never had. It is both empowering and humbling to be in a room with people with a passion for self-development.
If you are looking for a safe space to improve your public speaking and leadership skills, this is the place for you! This club has created a supportive environment for me to get out of my comfort zone and most importantly, enjoy the process along the way.
I'm an introvert. Any spotlights would unnerve me. I joined the club to conquer the fear of public speaking since the club gave me a safe environment. What I didn't expect is that the journey also helps me build up confidence and discover my strengths, which is absolutely invaluable experience!
My Toastmasters experience has been nothing short of life-changing. It has empowered me to reclaim my voice, develop as a confident speaker, and embrace the power of my unique perspective. If you are seeking a supportive community that fosters personal and professional growth, I wholeheartedly recommend Toastmasters. Join us on this incredible journey of self-discovery and empowerment.