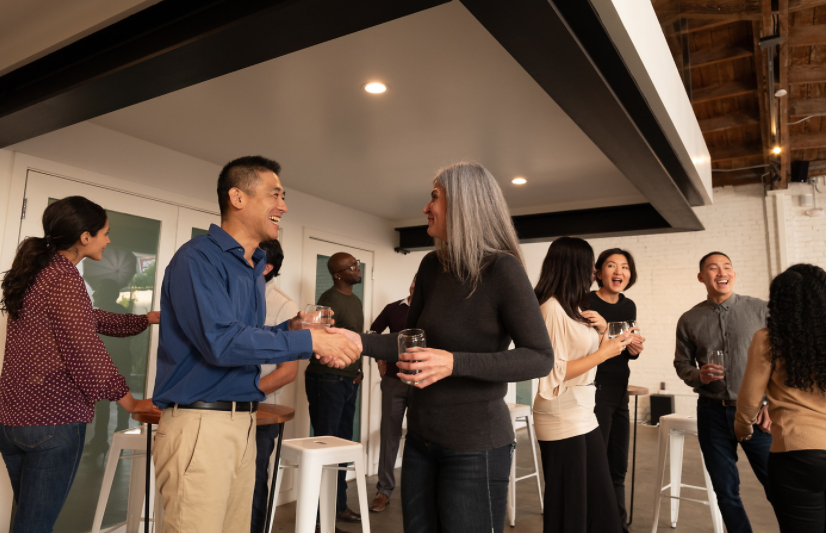 Slide

Do you want to learn to speak better in public? At Toastmasters, you can learn how!
You will learn how to prepare a speech and how to give it in an inspiring or convincing way. You will also learn to give presentations or workshops and to confidently improvise on the spot. Moreover, you'll learn to give constructive feedback that really helps others. At Toastmasters, you learn to speak by doing! 
Choose a club that suits you
There are more than 40 Toastmasters clubs in the Netherlands. Each club has its own character and atmosphere. A club has 20 to 40 members, who meet (on average) every two weeks. The strength of Toastmasters, therefore, lies in its repetitive nature. It is not a one-off course or 3-day training. You join a club – and stay a member as long as you like. With your Toastmasters membership, you can visit any club in the Netherlands or even in the world. There are more than 16,600 clubs in 143 countries and more than 357,000 members who help each other in their development of communication and leadership skills. You are very welcome to come and experience the atmosphere at one of our clubs! 
Attend a Toastmasters club meeting
Each club meeting lasts approximately 2 hours and follows a fixed agenda – according to the Toastmasters structure – which consists of three main parts (see image opposite): 
Prepared speeches
A prepared speech is a speech that you have planned and prepared in advance. There are usually 4 prepared speeches that last about 5-7 minutes at each club meeting.

 
Speech evaluations
An evaluation of a prepared speech is given directly by another Toastmaster. During the evaluation, the speaker receives valuable and instructive feedback to further improve themselves and their speech. This evaluation takes approximately 2-3 minutes.

 
Impromptu speeches
Each meeting Toastmasters (and usually guests on a voluntary basis) are invited to improvise for approximately 2 minutes on topics determined by a Table Topics

Master/ improv

leader.

 
Even if you don't give a prepared speech during a particular meeting, you can take on other roles during a meeting to develop yourself. Each meeting is led by a Toastmaster of the Evening (the chairman of the day). This person has the responsibility to lean it an inspiring and energetic evening by opening the meeting, introducing speakers and evaluators appropriately and ensuring that the agenda is followed properly. 
During a meeting you can also take on supporting roles such as Table Topics Master, Timekeeper, Ah Counter, Grammarian or General Evaluator. In this way, you learn to speak in front of an audience with little preparation, in an accessible way. Would you rather watch first? That is, of course, also possible. In the Toastmasters learning environment, you set your own pace. 
In the video on the right you can get a good impression of a club meeting. 
Determine your own development path
Every Toastmaster uses the Toastmaster's learning material: Pathways. Pathways is an online teaching program where you learn to prepare your speeches. You can choose from different development paths. For example, Presentation Mastery, Dynamic Leadership, Effective Coaching, Speaking with Humor and several more. Based on your chosen path, you lay the foundation at your own pace to become a powerful speaker. 
Each development path starts with an Ice Breaker, a first speech about yourself. You then follow the speech assignments from your Pathways development path. 
Develop yourself with valuable feedback
The power of Toastmasters lies in giving and receiving feedback. There is no trainer at Toastmasters. Toastmasters evaluate each other. 
In addition to the speech evaluation, you receive feedback from other members: what went well and where there is room for improvement. This manner of giving constructive feedback is central to the Toastmasters philosophy. This peer-to-peer feedback is key to the success of Toastmasters! 
Come by and check it out!
A friendly and safe atmosphere is characteristic of Toastmasters clubs. At a club meeting, every Toastmaster feels seen and heard, whether you are a novice or an experienced speaker. Everyone is welcome. And you not only learn to speak better, you also immediately build a network with like-minded people – who are also active outside Toastmasters and meet up with each other to enjoy both speaking and non-speaking related activities. Becoming a member has many advantages!