Language
English
Meeting Days
Every 1st, 3rd, and 5th Tuesday of the month
Times
19.30 to 21:15
Location

In het Koorenhuis
Prinsegracht 27
2512 EW Den Haag

TM Site
Social Media
"LIFE BEGINS at the end of your comfort zone."
– Is the fear of public speaking limiting your career?
– Do you have a speech or presentation soon and you want to know how to blow your audience away?
– Are you a budding public speaker and do you want to learn the skills to take you to the top?
Then Tír na nÓg Toastmasters The Hague is perfect for you!
Welcome!
We are an internationally oriented Toastmasters club who meet in the beautiful city centre of The Hague. We have our home at the Koorenhuis (room 2.07), next to the Grote Markt, where we meet every 1st, 3rd and 5th Tuesday of the month. We also host hybrid meetings where members and guests can join both online or at the Koorenhuis.
Our club is a great place to be if you want to improve your public speaking skills, communication or leadership skills. Especially because you'll be doing it with friendly, like-minded people. We're open to anyone interested. Of course, members of other Toastmaster clubs are also more than welcome to join our meetings.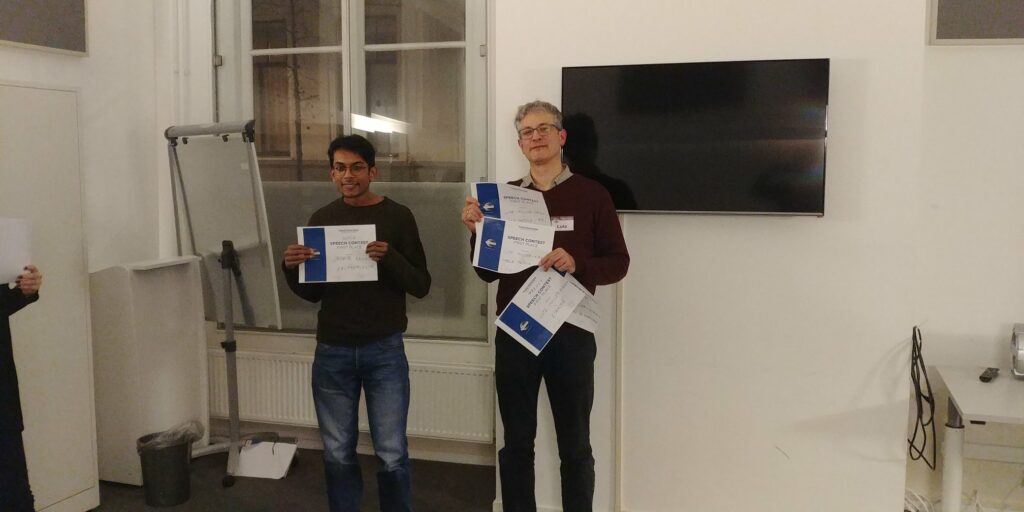 An evening at our club
In a typical club meeting there will be ten to fifteen people willing to challenge themselves in a relaxed and friendly atmosphere. Members give prepared speeches on every possible subject. Cricket, personal challenges, creativity, we have it all! These speeches are evaluated by other members so the speaker can improve his or her skills. You may very well be asked to answer a question out of the blue at the table topics or impromptu speaking.
Visiting a club is an exciting first step in reaching your goals. There's no need to feel pressure to participate at your first club meeting – all members experience some nerves – you can simply observe if you wish. After the meeting, you may join some of us for drinks at a pub nearby or for virtual drinks.
Please feel free to visit one of our meetings to experience how our Toastmasters learn and improve their skills in a fun and effective way (please register via the form below or on Easyspeak).
A little bit of history
Our English speaking club was founded in 2012 by Toastmasters with Irish roots. They wanted the club's name to refer to an old Irish tale Tír na nÓg, which title is best translated as 'the land of eternal youth, beauty, health, abundance and joy'. Our Irish roots can also be found in the club's motto: "Caint, Craic agus Cúpla focail": to speak, have fun and share a few words…
For more information and/or registration, contact us via the contact form. Don't hesitate to join a meeting. Come check out the warm atmosphere for yourself!
"According to most studies, people's number one fear is public speaking. Number two is death. Death is number two. Does that sound right? This means to the average person, if you go to a funeral, you're better off in the casket than doing the eulogy."

Jerry Seinfield